The Wolper Jewish Hospital Health Foundation was established in 2014 with the aim of funding health and wellbeing initiatives that will deliver clear benefits to the Jewish and general community.
The Foundation will consider applications from organisations for initiatives, programs, projects, services, equipment, capital purchases or any assistance that will create positive health and wellbeing outcomes for the benefit of the community.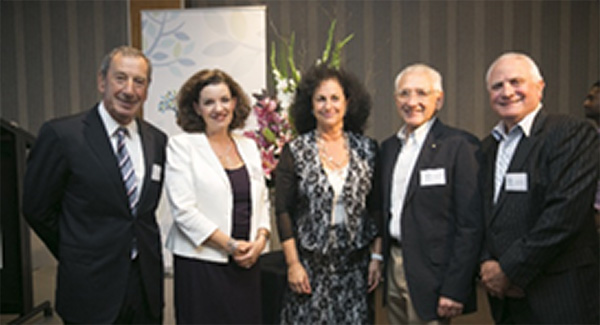 Daniel Goulburn
BEc CPA FTI – Foundation Chairman
Company Director
Honorary Treasurer of Wolper Jewish Hospital
Trustee and Life Governor of Moriah College
Co-Chair of Australian Council of Jewish Schools
Past Vice President and Honorary Treasurer of Moriah College
Dr David Golovsky
AM, MBBS FRCS FRACS
David is the President of the Wolper Jewish Hospital, a role he has held since 2009, chairing the Hospital's Board of Management and its Executive Committee. He is also a member of the Board of Management's Finance, Medical Executive and Community Partnership Committees.
David was a past Chair of the Division of Surgery at St Vincent's, past President of the Urological Society of Australia and New Zealand and past Chair of their Scientific Advisory Committee. He also convened the Societé Internationale d'Urologie World Congress in 1994 and was a Scientific Advisory Committee member of St Vincent's Clinic Foundation.
David is an andrologist and urologist with over 30 years experience of male infertility. After graduating from the University of Sydney, he trained at the College of Surgeons in London, before returning to Australia to work at Prince Henry Hospital, and consult at Concord Hospital and later St Vincent's Hospital.
His principal specialty is microsurgery, and his surgical experience and expertise in male physiology and pathology enable him to provide specialist care for couples with extreme male factor infertility.
Mark Hadassin
B Comm, LLB, LLM
Deloitte Touche Tohmatsu
Member Finance Committee
Josephine Holland
B.Ec LLB from Macquarie University
Admitted as solicitor 1998, in practice as solicitor for 8 years
Board member NCJWA (NSW) for 8 years
Director and Chair of MUM FOR MUM NCJWA limited since incorporation
Board member Wolper Jewish Hospital
Graham Einfeld
OAM
Chartered Accountant and currently a consultant with ESV, Accounting and Business advisors.
Previously was a Partner of the firm for 30 years.
Board Member of Moriah College for 17 years including serving as Honorary Treasurer and Vice President.
Honorary Treasurer of Jewish Communal Appeal for 5 years from 2006 to 2011.
Currently Honorary Treasurer of Jewish House.
Board Member of Wolper Jewish Hospital for 20 years including 14 years as Honorary Treasurer and 5 years as President from 2004 to 2009.
Ian Sandler
Ian has Bachelor of Commerce and Bachelor of Accountancy degrees from the University of Witwatersrand and began his professional life as a Chartered Accountant in South Africa working for Arthur Andersen & Co.
Prior to relocating to Australia in 2001, Ian was the Managing Director of Avis Southern Africa Limited's Tourism and Leisure Division and the Chairman and Chief Executive Officer of RCI SA and RCI Pacific.
Ian is the former CEO of the JCA and has held a number of other communal positions such as President of Maccabi Golf Australia, President of NSW Maccabi Golf, Treasurer of Kehillat Masada Synagogue and Treasurer of NSW Jewish War Memorial.
His Honour Acting Judge Ronald Solomon
Educated at Randwick Boys' High School and the University of Sydney.
1966 admitted as a Solicitor.
1969 – 1983 Partner at Taylor & Scott, Solicitors
1983 – 2013 Judge of the District Court of New South Wales
1992 – 1993 Deputy Chairperson of the Medical Tribunal of New South Wales
2013 Appointed acting Judge to the NSW District Court
2014 Appointed Professional Member of the New South Wales Civil and Administrative Tribunal
Dr Susan Hertzberg
MB.BS, MHealth Law, FACEM
Medical Practitioner since 1984
Fellow of the Australasian College for Emergency Medicine
Senior staff specialist in Emergency Medicine at the Prince of Wales Hospital
Senior Lecturer (Conjoint) UNSW Faculty of Medicine
Masters of Health Law USyd 2011
Masters of Bioethics USyd – current
JCA host for over 20 years
Member of the NSW Jewish Board of Deputies and the Montefiore Home
Board Member of the Great Synagogue 2010 and 2011
Currently serving on various professional bodies and committees related to Emergency Medicine
The Board consists of 4 Wolper Jewish Hospital Board members and three un-associated members.
History
For over 60 years Wolper Jewish Hospital has provided excellent health facilities to both the Sydney Jewish and general communities.
Since its creation, the mission of the Hospital has been expanded to include involvement in many important health-oriented community projects.
In 2014, the Hospital Board formalised the expansion of its community program assistance by launching the Wolper Jewish Hospital Health Fund thereby making a commitment to this area in perpetuity.