Wolper is host to a close-knit community of employees who are committed to providing the best in patient care. We are non-denominational in our hiring policies.
The hospital is a 54-bed facility providing medical care, rehabilitation services and palliative care.
We are close to public transport, with ample free parking in the surrounding streets. Our small size and the high quality of our services and staff make us an employer of choice. Our staff are given the time to get to know patients and their families and make a real difference in their lives. Many of our employees have been with us for over 20 years, thanks to our pleasant and professional environment.
Light refreshments and uniforms are provided free of charge to the staff.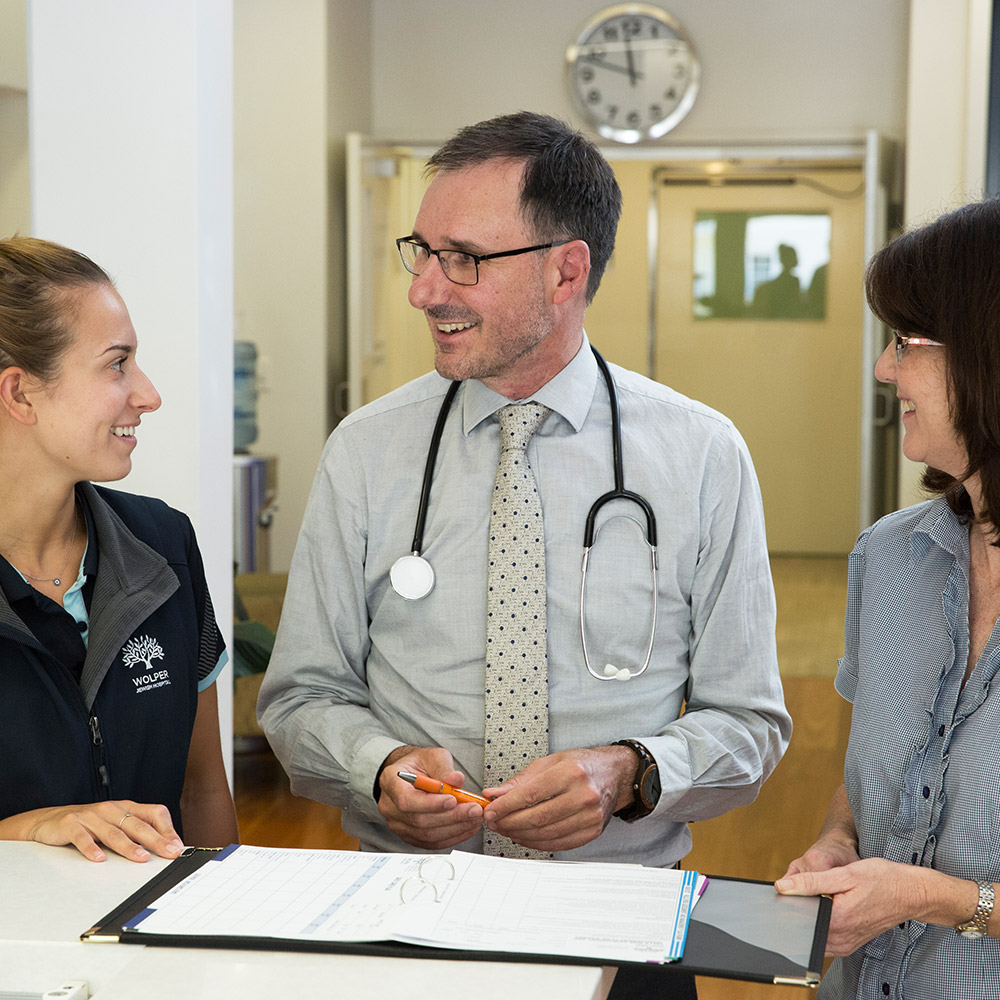 Part Time
Start Date: Early – Mid January 2018
We require a part time exercise physiologist to join our multidisciplinary team across a variety of areas including running group exercise classes, delivery hydrotherapy and involved in the rehabilitation of patients with neurological disorders such as Parkinson's Disease. You will work alongside a dynamic and experienced team of practitioners who aim to achieve the highest clinical outcomes for their patients. Those with skills in management or coordination may be considered for full time hours to oversee our community based health and wellbeing program.
For the right candidate there may be an opportunity to increase hours to full time with the addition of administrative and co-ordination duties.
What we can offer you:
Highly competitive pay and conditions
Regular internal professional development and education offered on a wide range of topics
Work within a large friendly multidisciplinary team consisting of physicians, physiotherapists, occupational therapists, exercise physiologists, discharge planners and nurses.
Hold registration with ESSA
Ability to deliver a range of group exercise classes with the aim of improving strength, balance or cardiovascular fitness
High level of written and oral communication together with well-developed interpersonal skills
Demonstrated ability to participate within a multidisciplinary environment
Commitment to delivery of high standard of patient care
engaging, positive and enthusiastic attitude
Previous experience in a multidisciplinary setting including medical, geriatric and/or rehabilitation
Experience working with patients suffering some movement disorders such as Parkinson's Disease
LSVT accredited or a desire to undertake this programExperience in hydrotherapy or aquatic exercise programs
Experience in hydrotherapy or aquatic exercise programs
Highly organised and attention to detail
Please note that to apply for these positions you must be an Australian Citizen or Permanent Resident, or be able to independently and legally live and work in Australia.
Please apply in writing to Geoff Blicblau, Allied Health Manager and Head of Day Rehabilitation via email geoffblicblau@wolper.com.au or for more information please call (02) 8324 2284
Only suitable candidates will be contacted for an interview.
Our 22-bed medical ward is looking for an experienced Registered Nurse (RN) to join our evening duty team on Tuesdays and Wednesdays. The medical ward caters for patients requiring either medical, rehabilitation or palliative care.
We are specifically looking for a RN to care for our palliative care patients.
A team nursing model is used to deliver holistic quality patient centred care, taking into account the individual needs of each patient.
Position details:
Part-time, 32 hours per fortnight
Tuesday / Wednesday (1400 – 2230)
Essential criteria:
Registration with Australian Health Practitioners Regulation Agency as an RN
Recent palliative care experience in a hospital/community setting
Demonstrated effective communication and interpersonal skills
Ability to work as part of a multidisciplinary team
Demonstrated organisational and time management skills
Commitment to professional development and ongoing education
Computer literacy
Knowledge and understanding of a team nursing model of care
Only Suitable Candidates Will be Contacted for an Interview
Please note that to apply for these positions you must be an Australian Citizen, a Permanent Resident or be able to independently and legally live and work in Australia. Visa sponsorship is not available. It is a condition of employment with Wolper Jewish Hospital that all staff provide a satisfactory Police Check.
Contact details:
Andrew Driehuis
Deputy Director Clinical Services
Phone: 02 8324 2291
Email: andrewdriehuis@wolper.com.au
Applications close Friday 29th December 2017
Morning and afternoon shifts of 4.5 – 8 hours available
This job involves the daily operations of our kosher Hospital kitchens. Your duties will be to provide meal services to patients and active kitchen duties including plating, tray set up, cleaning and washing.
Essential criteria:
Command of verbal and written English
Ability to work in a sole position within our demanding food service team
Ability to drive a motorised vehicle (Burlodge Cart) with directional steering
Food Handlers qualifications
Working knowledge of NSW FOOD Safety for Vulnerable People
Current hospital catering experience (experience in aged care will not be considered)
To apply please forward your letter of application, CV, criminal reference check and evidence of eligibility to work in Australia to
Judy Amzalak, Food Services Manager via email to judyamzalak@wolper.com.au
Only suitable candidates will be contacted for an interview.
Keen to work with our team?
Feel free to submit your resume and we will keep your details on file for future positions.