Wolper is host to a close-knit community of employees who are committed to providing the best in patient care. We are non-denominational in our hiring policies.
The hospital is a 54-bed facility providing medical care, rehabilitation services and palliative care.
We are close to public transport, with ample free parking in the surrounding streets. Our small size and the high quality of our services and staff make us an employer of choice. Our staff are given the time to get to know patients and their families and make a real difference in their lives. Many of our employees have been with us for over 20 years, thanks to our pleasant and professional environment.
Light refreshments and uniforms are provided free of charge to the staff.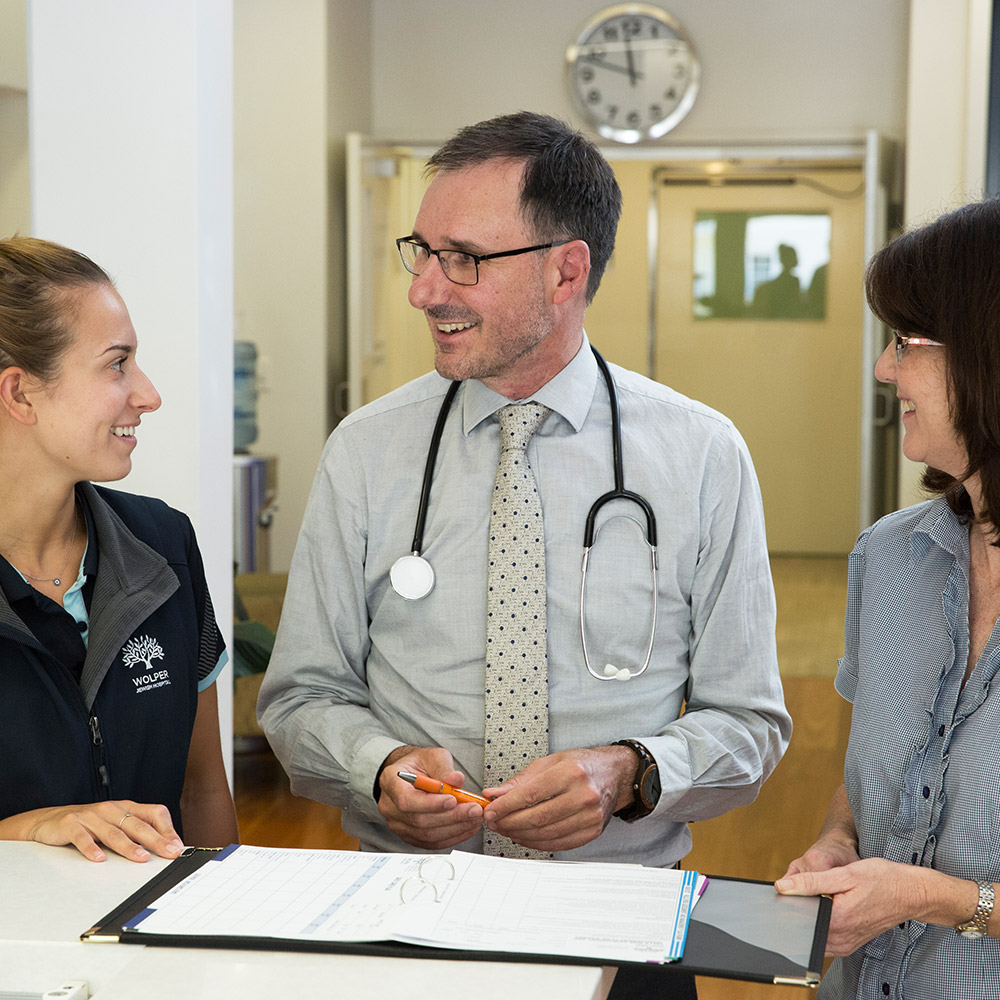 Current positions
Food Services Supervisor
What we are looking for:
Essential:
• Experience in food safety.
• Working knowledge of the NSW Food Authority Vulnerable Persons Safety Scheme.
• Knowledge of the Australian New Zealand Food Standards Code (FSANZ), Food Act 2003 (NSW) and Food Regulation 2015.
• Computer skills to be able to manage a temperature monitoring system.
• Knowledge of Kashrut requirements as applied to modern industrial kitchens or willingness to learn.
• Previous kitchen management skills including:
• Staffing – recruiting, selection & rosters
• Stock control & purchasing
• Supervising, directing & educating
• Menu planning
Desirable:
• Food Safety Supervisor or willing to work toward same, Cert IV Hospitality, Cert III Kitchen Operation, Cert IV cookery.
• A knowledge of quality improvement practices
For further enquiries contact John Tucker, CEO on 83242201. Applicants must be eligible to work in Australia.
Applications close: Friday 16 August, 2019
Physiotherapist
Full Time
What we are looking for:
Physiotherapist to rotate between Inpatients (elective Orthopaedics), Geriatric Rehabilitation/Medical/Palliative and Outpatients. New graduates are welcome to apply.
What we can offer you:
– Internal professional development and support to attend external professional development.
– Work within a large friendly team consisting of rehabilitation consultants, physiotherapists, occupational therapists, exercise physiologists and nurses.
Essential Criteria:
– Hold current physiotherapy registration with AHPRA.
– High level of written and oral communication together with well-developed interpersonal skills.
– Positive and enthusiastic attitude.
Desirable Criteria:
– Previous hospital/rehabilitation experience.
– Previous experience in orthopaedic rehabilitation
– Experience in a hydrotherapy setting.
– Post graduate qualifications or evidence of continuing professional development.
– 1-2 years hospital experience
Please note that to apply for this position you must be an Australian Citizen or Permanent Resident, or be able to independently and legally live and work in Australia.
Please email : codykane@wolper.com.au or call Cody Kane, Physiotherapy Manager on 02 83242284
Applications close: Sunday 18 August, 2019
Keen to work with our team?
Feel free to submit your resume and we will keep your details on file for future positions.