Updates to Wolper's popular MoveWell exercise program
13/07/17
Wolper's MoveWell Program promotes a healthy and active lifestyle for all members of the community.
MoveWell Class Descriptions
MoveStrong – Strengthening and Conditioning
Suitable for community participants that are independent and looking to improve strength, flexibility and fitness. Class is conducted in a circuit format using exercise machines and free weights to strength whole body and improve fitness.
MoveSteady – Falls and Balance Class
Class is suitable for community participants who are independent or use a walking stick/frame. Exercises focus on balance, leg strength and posture to reduce the use of aid and prevent falls.
Tai Chi – Shibashi – Starting October 2016
Tai Chi is a gentle form of exercise focusing on slow, controlled movements. Benefits include improvements in strength, posture, balance, mental relaxation and breath control. It is a low impact form of exercise, suitable for those with arthritis and osteoporosis, reduced balance, heart conditions and back pain.
MoveBig – For people diagnosed with Parkinson's disease
This circuit class is based on the LSVT Big protocol and focuses on high amplitude, big movements in order to improve strength, balance and confidence.
BackInMotion – Core stability and spinal health class
Specifically designed for people with chronic lower back pain to target strength, functional movement and flexibility. Exercises aim to improve spinal health and overall body awareness.
MoveWell Class Fees:
$20 per class
$17 for aged or disability pension card holders
All classes must be purchased in sets of 10 classes
Each class runs for 45 minutes and is supervised by an Exercise Physiologist or Physiotherapist
Aqua Class Descriptions
AquaMove – Aqua-Aerobics
Classes focus on increasing and maintaining body strength, flexibility and function via water-based exercise which supports the body and reduces impact on joints.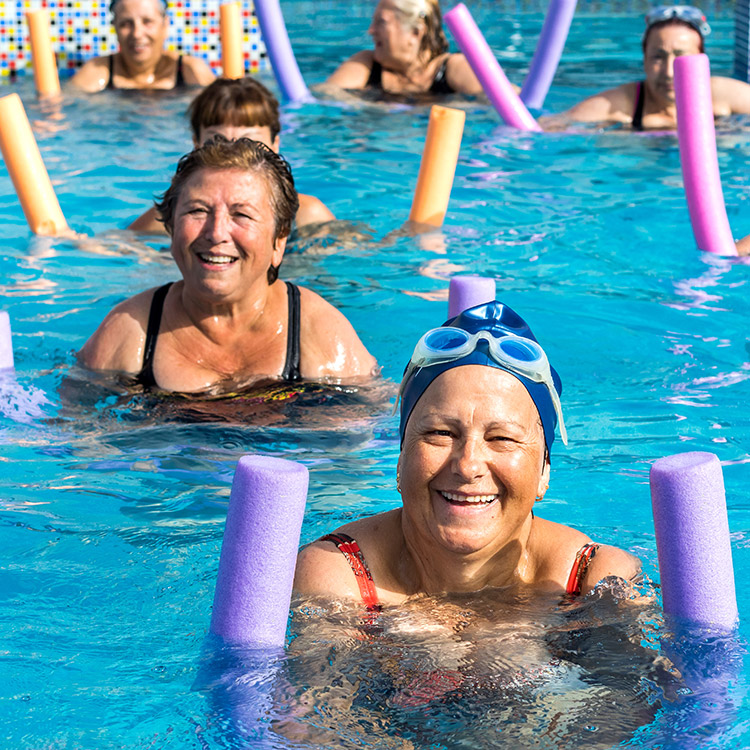 AquaCore – Aqua-based Core Strengthening
Classes designed to strengthen the deep muscles around the spine and the pelvic floor muscles via water based exercise. Classes are suitable for individuals with pelvic floor weakness, pre/post natal, and spinal injuries/conditions.
Women's only Wednesday night 6pm class- focusing on pre/post natal, pelvic floor weakness and postural correction.
All Aqua classes are conducted in a chlorine-free heated pool. All participants must be continent and safe in the water to attend. Any concerns regarding suitability for the pool based on medical history should be discussed with your GP or staff prior to starting the classes.
AquaMove & AquaCore Fees:
$198 per 12 week term (1 x per week) or
$154 for aged or disability pension card holders.
Fees must be paid in advance.
All sessions are offered at Wolper Hospital
For further information and to book your classes contact Emma Ugarte on 8324 2296 or email movewell@wolper.com.au
Click on the button to download the MoveWell timetable