Wellbeing program
Wolper's series of Wellbeing webinars provide up to date information delivered by experts in their fields. Moderated by Julie McCrossin AM, these 90 minute sessions are always informative and entertaining.
Our next Wellbeing is a special series on:
How to protect our mental health during this time of trauma, grief and anxiety
Practical strategies to help us cope
Session 2 – Focussing on children and adolescents: for parents, grandparents and carers
Monday 4th December, 7:30pm – 9:00pm
Our speaker panel will include:
Dr Danielle Einstein – clinical psychologist; Adjunct Fellow at Macquarie University; leading expert in understanding the impact of uncertainty on mental health; specialist in social media use.
Dr Antony Milch – Leading child, adolescent and family psychiatrist; management of trauma for children and their families has been an integral part of his practice.
Sandy Hollis – Head of Education at the Sydney Jewish Museum, oversees all the education programs that service 36,000 students a year; authors and delivers the Museum's Tolerance, Ethics and Diversity, Corporate Program.
Julie McCrossin AM – Freelance journalist; facilitator; trainer and speaker.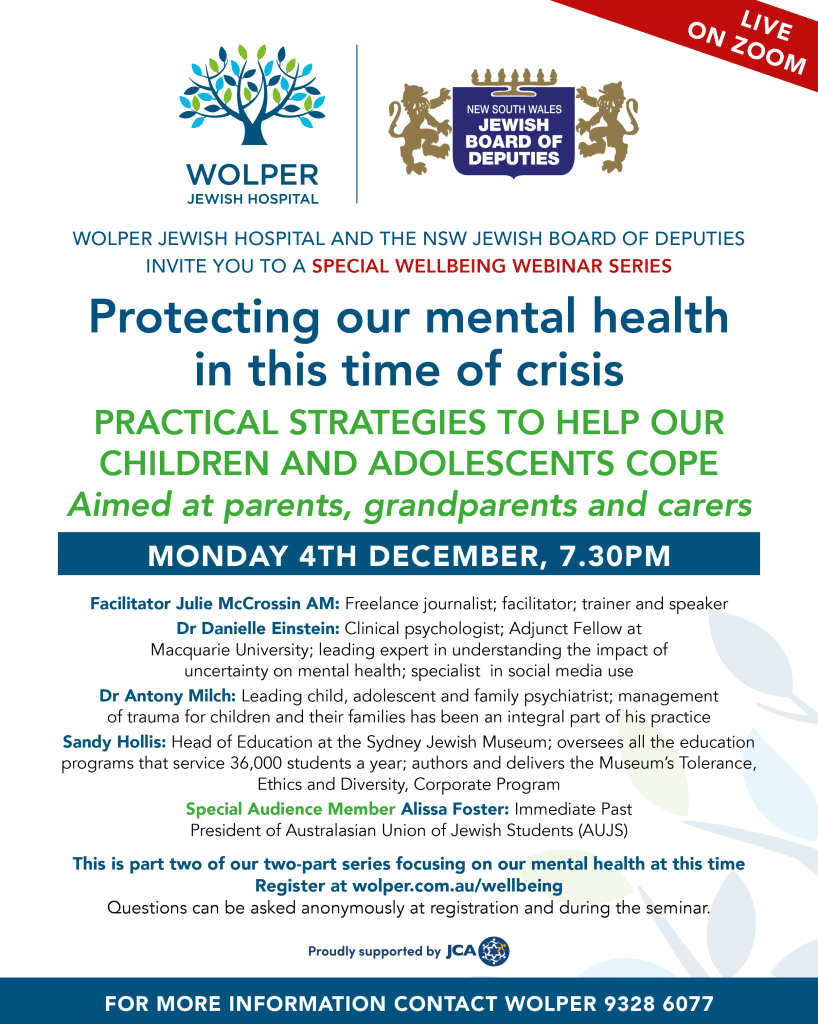 Protecting our mental health in a time of trauma, grief and anxiety – adults
Arthritis and osteoporosis
Bringing Up Boys – Raising Good Men
Cardiac & Vascular Disease
COVID-19 Vaccination: What you need to know
Deafness, Meniere's disease and tinnitus
Healthy Bones, Falls & Fractures
Wolper Wellbeing Mental Health in the Age of COVID-19 series – Helping Teenagers Cope with the Anxiety and Uncertainty of a Covid-19 World
Wolper Wellbeing Mental Health in the Age of COVID-19 series – Supporting Older People in a Time of Crisis
Mental Health in the Age of COVID-19 series – Managing the Mental Health of your Child or Adolescent
Mental Health in the Age of COVID-19 series – The Path Back to a New Normal – Managing Depression, Anxiety and Suicide Risk
Parkinson's Disease & Rehabilitation
Perimenopause & menopause
Social media and young people – May 2023
Vaccine Hesitancy – May 2021